Alocasia "Frydek-Bullata"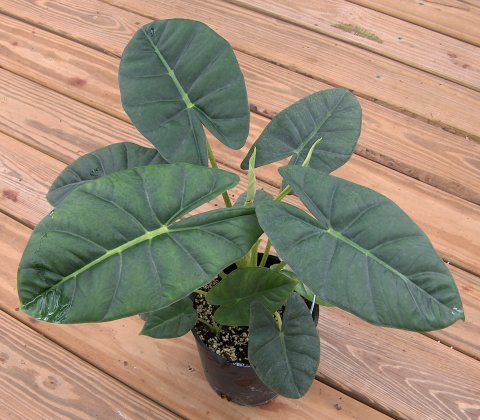 This hybrid is one that was done by Brian Williams (of Brian's Botanicals) a few years ago. The specimen pictured is still in my research collection, and is one of very few specimens of this hybrid still surviving. Although the work was not done by me, I have included it here because recently I have completed several hybridizations with this plant and my Alocasia 'Imperial Giant'. The hybrid progeny are significantly larger than this plant and have a wide range of variation in leaf shapes and textures. My work has demonstrated that Frydek-bullata is fertile in both directions when crossed.
Frydek-bullata leaves are distinctively bullate and have a somewhat satiny sheen when freshly emerged. In culture, the plant is one that I consider a "jewel" and is one reason why I continue working to improve it through further hybridization.
The photo below shows berry set as a result of one of my crosses using this plant.